Labelling & Marking
Labels
Back to news
The labelling of chemical products
4 January 2021
As of December 1, 2012, chemical substances must be classified according to the GHS system, an international system for labelling hazardous materials categorized according to numbers, pictograms and hazard statements.
The label is the primary source of information about a product
According to the prescriptions of the RDs of 24-05-1982 and 11-01-1993 relating to chemical agents, the manufacturer or distributor must ensure that the label is regulatory and contains all the necessary information, namely
the name of the product
the specific indication of danger and related symbols
phrases that mention the specific risks of its hazards (R-phrases)
sentences containing precautionary statements to limit any risk (S-phrases)
the name and address of the manufacturer or the person who placed the product on the market
the appropriate hazard symbol for the product, i.e.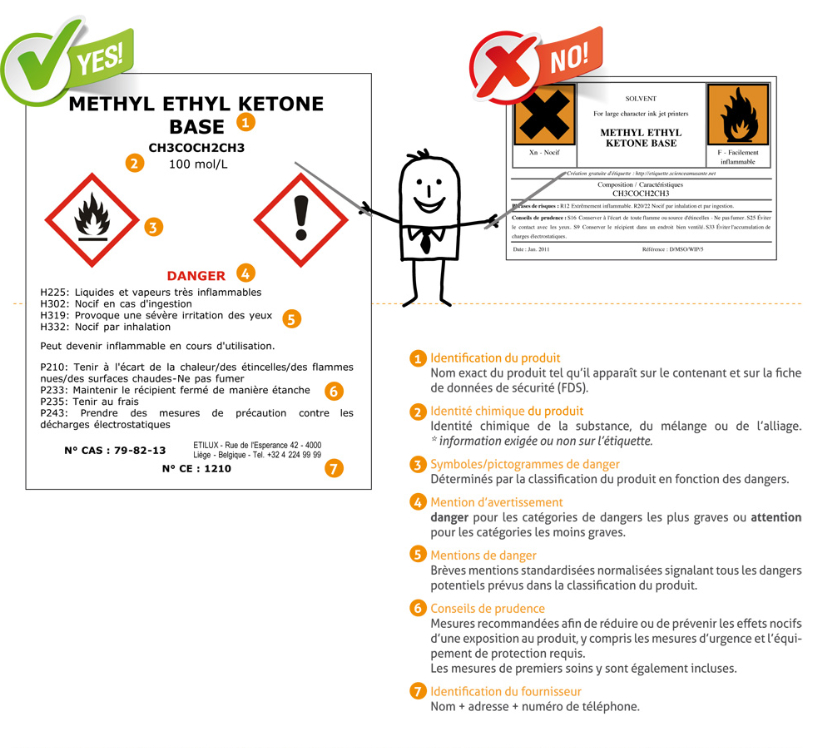 The particulars on the label on the package or container must be clearly legible and indelible so that the specific hazard statements and/or symbols, risk phrases and precautionary statements intended to mitigate each risk will attract the attention of users, and in particular the color and layout of the label must be such that the hazard symbol and its background are clearly distinguishable.
The label must be affixed in such a way as to be clearly visible and horizontally legible when the container is placed in its normal position.
The label shall have the following dimensions, depending on the volume of the containers, bags or envelopes :
Package 

capacity

Size

less

 

than

 

or

 

equal

 

to 3 l.

if

 

possible

 

52 x 74 mm

more

 

than

 

3 l and

 

less

 

than

 

or

 

equal

 

to 50 l.
at least

 

74 x 105 mm

more

 

than

 

50 l and

 

less

 

than

 

or

 

equal

 

to 500 l.
at least

 

105 x 148 mm

more

 

than

 

500 l.
at least

 

148 x 210 mm 
L'étiquette doit adhérer durablement, par toute sa surface, sur l'emballage.
Labelling and 
signage
Remember to check the following points :  
All containers (

bottles

, jerrycans, tanks, 

cisterns

…) are 

labeled

 

with

:

 

the 

name

 of the 

product

 

the 

risk

 phrases R and the 

safety

 phrases S

 

the 

corresponding

 

pictograms

 

the 

name

 and 

address

 of the manufacturer

 

If the 

chemicals

 have been 

transferred

 to 

other

 containers, 

these

 are 

also

 

labelled

 

The labels and instructions are in 

your

 

language

.

 

All 

risk

 

premises

 and 

storage

 areas 

bear

 the 

hazard

 

pictograms

 for the 

products

 

concerned

 

with

:

 

a possible smoking ban

 

possible ban on flame 

work

 

the possible ban on 

driving

 

with

 

motorized

 

vehicles

 

the 

specific

 

signage

 for the type of transport of 

goods

 

is

 

known

, in 

particular

 the 

so-called

 ADR 

signage

 for road transport

 
(sources: SPF Employment/SIPPT)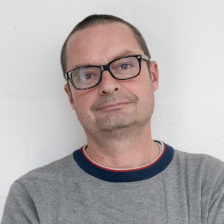 Your contact at
Etilux
Dimitri Watelet
Product Manager - Labelling & Marking
Back to news
All the news
Discover our e-shop
A large catalog of products and services available 24/7